Sports » Latest News
Sports
Posted: Dec 23, 2021 8:42 AMUpdated: Dec 23, 2021 9:42 AM
Sports Year in Review: OKWU Men Surge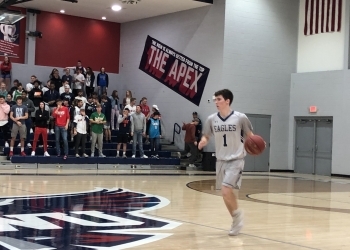 We continue our look back at the top sports stories of 2021, with a constant during this series the past several years: Oklahoma Wesleyan men's basketball.
It was another wildly success year for the OKWU men in the 2021 calendar year. The Eagles compiled a 29-4 record over the course of 2021.
Wesleyan made a trip to the NAIA Sweet 16 in March. OKWU beat Park 93-65 in the first round of the NAIA tournament and then topped USAO 100-73 in the second round. The Eagles made 32 three-pointers in the regional wins. Brooks Haddock made this big one on the first night in Wichita.
OKWU would then advance to round of 16 in Kansas City. The Eagles would come up short against Lewis & Clark State—a team led by OKWU grad Austin Johnson. LCS would go on to lose the national title game.
OKWU has come back even stronger to start this season. The Eagles are currently 15-0 and ranked No. 4 in the country.
« Back to Sports