Sports » Latest News
Sports
Posted: Dec 29, 2021 7:41 AMUpdated: Dec 29, 2021 8:41 AM
Sports year in Review: WCS Wins Playoff Game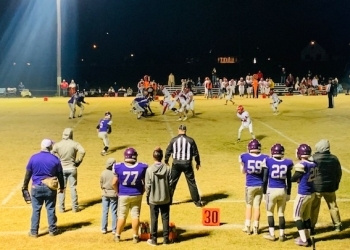 We continue our year in review series with the best local sports stories in 2021 with one of the more recent accomplishments across the area.
Wesleyan Christian School won its first OSSAA playoff game in nine years this fall, as the Mustangs had a historic run to second-place in their district.
WCS beat down Sasakwa 35-16 in mid-November in Bartlesville. It was the first round of the Class C postseason.
It was all Mustangs from the start. 21-unanswered points midway through the contest is what lead to the victory. Outstanding games from quarterback Tyrel Cloud and tailback Kaden Fisher stood out as highlights.
Here is how the final call sounded on Nov. 12.
The playoff win happened in large part thanks to running back Fisher, who rushed for 101 yards and had three touchdowns on the evening.
Head coach Curt Cloud says that Fisher had a spectacular end to his senior campaign.
The Mustangs would end up losing to Mt. View Gotebo 70-19 in the second round of Class C action, but it was still a historic 8-4 campaign for Curt Cloud's club.
« Back to Sports