Sports » Latest News
Nowata Basketball, Caney Valley Basketball
Posted: Jan 11, 2022 9:40 PMUpdated: Jan 11, 2022 10:40 PM
Thompson's Foul Shots Push Ironmen Past CV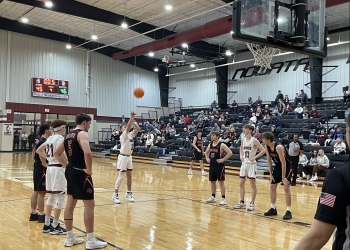 The Nowata Ironmen topped No. 19 Caney Valley in a thriller on Tuesday night, 47-46. Jace Thompson was fouled on a three-point attempt with less than a second remaining and converted all three free throws to give Nowata the win. Here's how the final shot sounded.
Nowata pulled ahead after a slow start for both teams in the first quarter. The Ironmen lead 15-5 after one period. Caney Valley and star Daniel Barham would come alive in the second quarter. Barham scored 19 of his game-high 29 points in the second quarter. This bucket came just before the quarter expired.
Caney Valley kept its lead going into the fourth quarter at 38-31. Nowata's defense would stay strong late into the game. The Ironmen went on a quick 7-2 burst to pull the score to 40-38 in the first minute of the final quarter. Caney Valley would score just six points over the final seven minutes.
Tied at 44-44 in the final minute Jackie Black would put back a Barham miss to give the Trojans the lead. Nowata would set up an inbounds play for Thompson that led to a foul being called. Thompson said he was confident going to the line.
Nowata moves to 9-2 with their eighth straight—its ninth straight win over Caney Valley. The Trojans drop to 8-3 overall.
RE-WATCH THE GAME AT KRIGTV.COM
« Back to Sports