Sports » Latest News
Sports
Posted: May 13, 2022 7:42 AMUpdated: May 13, 2022 8:42 AM
Track and Field has Good Chances at Medaling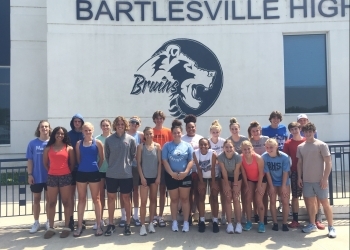 BHS track and field are both in Ardmore for 6A State over the weekend.
23 athletes qualified after a great showing at Regionals last week.
Many Bruins and Lady Bruins will have a chance to place, but here are a few to watch. Campbell Barta won the 200, 400 and long jump at regionals. Freshman Kadance Barnett won the 100-meter dash. And Ragen Hodge won the high jump.
The girls 4 X 200 relay was also a regional champ a week ago.
Full list of Bruins at state this weekend:
Dayton Austin (4x400 Relay, 4x800 Relay), Campbell Barta (200, 400, LJ, 4x200 Relay), Kadance Barnett (100, LJ, 4x200 Relay), Kade Bostwick (PV), Lexi Burton (Discus), Tehi Chibbitty (4x800 Relay), Noah Darnell (4x400 Relay), Parker Fielder (4x400 Relay), Reed Gorman (4x400 Relay, 4x800 Relay), Evan Gunter (4x400 Relay, 4x800 Relay), Ragen Hodge (HJ), Maggie Jackson (Pole Vault), Gage Keaton (4x400 Relay, 4x800 Relay), Zoe McCabe (4x400 Relay), Ledi Mull (PV), Chloe Robbins (4x200 Relay), Lauren Shoesmith (4x400 Relay), Nick Smith (HJ), Jaiden Stevenson (Shot, Discus), Gentry Turner (800, 4x400 Relay), Quincey Turner (PV), Jack Wahl (HJ) and Morgan Wasemiller (4x200 Relay)
« Back to Sports